This is how hard Pi works at The Gnomery!
I've been trying with ZERO luck to upload
this video
of what happens at night in The Gnomery. Blogger is a jerk, so it won't embed no matter how I try to upload it, so a link will have to do.
I haven't done a ton of creative work this week, but creative work has been going on in the Gnomery (part of the video above is "testing" the "
TactiGnome SlugFire"
- a LaserGnomes designed accessory for the NERF SledgeFire blaster).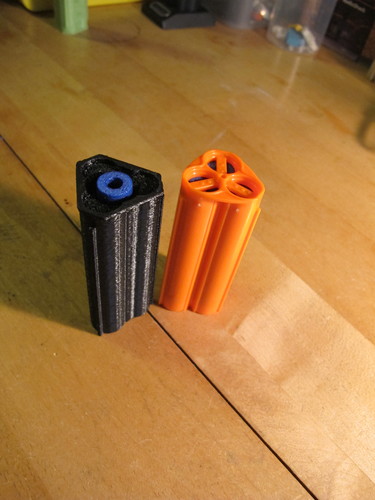 TactiGnome SlugFire designed and manufactured by LaserGnomes
We're also getting ready to start testing some new materials. We typically print in PLA, but have some PET to test in the near future. Both are environmentally friendly bioplastics, which we use instead of petroleum based plastics like ABS.
It's been a full week of research and paperwork for me, but Mind-2-Matter is almost done with all of that. We have moved to a fantastic space in
San Leandro, CA
. We're sharing this space with
Type A Machines
and it's going great.
The City of San Leandro is committed to revitalizing and re-imagining American manufacturing and we are excited to be a part of it. San Leandro has a fiber loop (can't tell you how excited Justin was at the mention of this!), tons of warehouse and commercial space available (the building we are in was formerly a Ford, Chrysler and Caterpillar plant) and they are currently having a "
holiday
" from business license fees to attract new businesses to the area. This applies to almost any new business setting up shop in San Leandro, which is unheard of.
As a "start up" company, that is a great incentive. For us, a very small business (3 people currently), the savings don't seem like a ton (about $300), but considering business licence fees are calculated on the number of owners and employees, that can quickly add up. Can't beat free, right?!
Keep an eye out for some of our upcoming projects. We are about ready to start casting in the new facility (we're up to 4 kilns) and we are expanding our 3D printing capabilities.
Here are some of the places you can find our services:
3d Hubs
MakeXYZ
Fictivmade
.